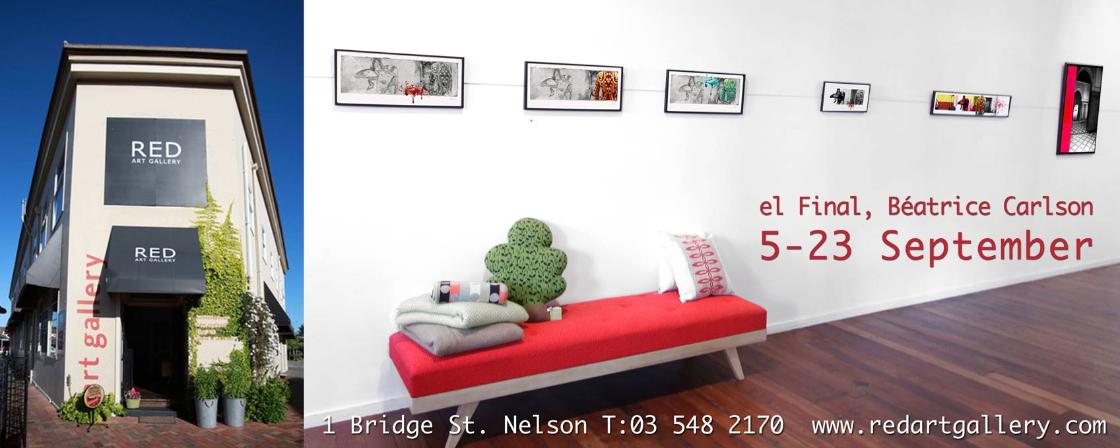 "El Final" is a series of 6 Artworks combining different techniques on one subject.
t is about "la Corrida de Torros", about the End... but also, Passion, Amor.
My photographs come from Spain, Camargue (France), Rarotonga and New Zealand,
I blend them to create a story…
I am not a Photographer, I am a Teller!
Multi media: Solarplate Etching on Fabbriano Fine Art paper, Digital Print on Perspex
from big to intimate size,
from Digital Print to Solarplate Etching,
from Perspex to Fine Art Paper
from vivid colour to subtle tones of Etching inks.
My work is dictated by my roots and the different medium I experimented
in my life. I am a French New Media Artist living in Auckland.
Oil Painting gave me an understanding of layers and transparency I use in
my digital work.
Solarplates create another atmosphere to the photographs I have taken and
blended with my computer.
Etching Printmaking is the ultimate step. It gives poetry...
Red Art Gallery , Nelson
"Mise Amor" Finalist at the New Zealand Painting and Printmaking Awards 2011
"Matador, je t'adore" Digital Print on Perspex and matt Photo Paper 800x350mm, Limited Edition of 10
" Fading" Solarplate Etching, Digital print on Perspex 530x230mm, Limited Edition of 10
"Bleeding" Solarplate Etching, Digital print on Perspex 530x230mm, Limited Edition of 10
"Torero" Solarplate Etching, Digital print on Perspex 530x230mm, Limited Edition of 10