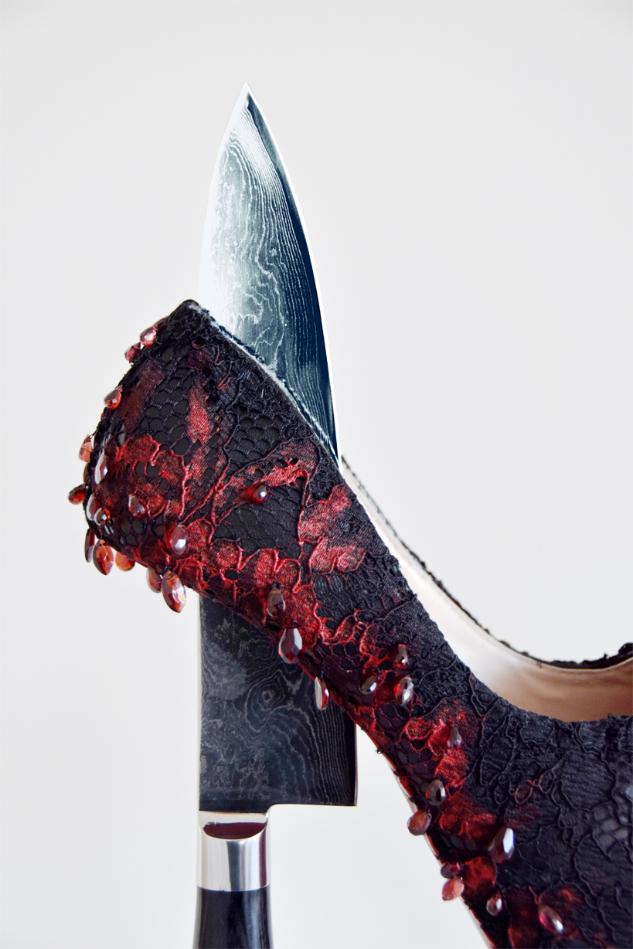 "my heels are killing me..." Giclée Print
Exhibitions & Events
2017
"Objects of Desire" Exhibition presented by Blikfang Art and Antiques and Auckland Festival of Photography
2016
September: Finalist World of WeatableArt Open section Wellington
July: "I am a child" Group exhibition Art by the Sea Devonport
2015
December:
Christmas group exhibition, Paperworks, Napier
Chritmas show Solander Gallery Wellington
September-October: World of WearableArt, Finalist open section WOW 2015 Wellington
August-September: Solander Gallery Wellington
July 27 -August 13: Red Gallery Nelson
May Solo Exhibition Art by the Sea Gallery Devonport
February FINALIST 1rst round NiIKON world photo contest 2015
FINALIST New Zealand Painting and Printmaking Awards 2015, Hamilton
2014:
-November "Antipodes" Group exhibition between New Zealand and Australia, Auckland-Sydney
-November "Outside the Square" group exhibition Depot Art Space, Devonport
-October BraveHeart Art Exhibition, Group Auckland
-September Bimblebox Art Project group exhibition
153 Printmakers representing 153 birds of the Bimblebox Reserve, endangered by a project of
coal mining QLD, Australia
World of Wearableart FINALIST Bizarre Bra Section Wellington
-August 22-Sept 17: "
Recycle to Upcycle"
group exhibition, Queenstown Arts Centre Queenstown
-September-October:

World of WearableArt,

Finalist 2013

Wellington

Finalist

of Impressions Art Awards Refinery Artspace Nelson
-Feb-March: "Taste of Printmaking" Lake House Art Center Takapuna
24 printmakers from the Print Studio Collective show the diversity of Printmaking.

Using contemporary themes, printmaking processes range from traditional to multimedia to digital prints.

The Print Studio will also be open to give viewers the opportunity to see further prints, see how prints are made and talk with the printmakers.
2012:
-September: Award Winner in Air New Zealand South Pacific Section, World of WearableArt 2012
Wellington
-June "View" solo exhibition, Letham Gallery Auckland presented by the Auckland Festival of Photography 2012
2011:
Finalist at the Biennal International Printmaking Show, 27 Artists from 14 countries
-September: " A puzzled Tame Tiki" Group Exhibition Letham GAllery Auckland
-August: Finalist in Kiwi Icons Section for the World of Wearableart 2011 Wellington
-April: "in Bloom" Group Exhibition Wallace Morrinsville Gallery
2011 FINALIST official Jury selection
- December/January : WaiPrint, Printmaking Group Exhibition Artspost Hamilton
"Local Landscape" , Group Exhibition Wallace Morrinsville Gallery
"Cross my Heart", Group Exhibition Letham Gallery Auckland
2010:
- September/October: World of WearableArt:

RUNNER UP

in Air New Zealand Pacific Section with "Who's the Pest, I am The Pest".
- September/October: "Metonymy ": Group Exhibition, Corban Estate Arts Center Auckland
-June: "ConnexiÒn" : SOLO Exhibition, Letham Gallery presented by

Auckland Festival of Photography 2010
-May: Braveheart Exhibition: 200 Artists, 600 Artworks presented at ASB Showground, Auckland
TRENZ represented by essenze NZ


2009:
-November: Ferner Galleries, le Salon Group Exhibition Sale St Auckland
-September: Exhibition SOLO, Letham Gallery Ponsonby Auckland
-May: "SkinS" SOLO Exhibition with the Auckland Photography Festival GeorgiGregg, Parnell Auckland
-March: "Parnell Art Rally": 7 Artworks, 7 places all dedicated to Arts: Essenze, Warwick Fabric, Corporate Culture & Designer Rugs, Coastal Design, Siena, Juice TV.
2008:
-November: "Fake", first SOLO Exhibition in New Zealand GeorgiGregg Parnell Auckland