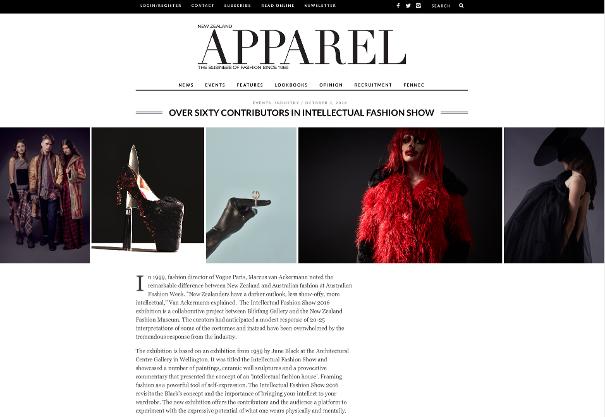 22 October Launch of IFS magazine
the NZ Fashion Museum in association with Blikfang Gallery presents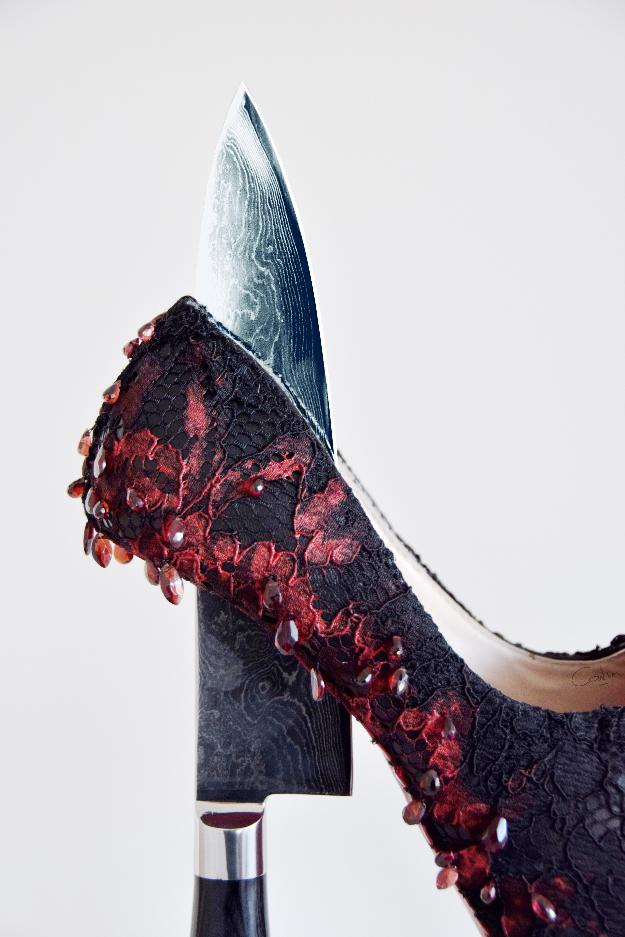 "my heels are keeling(killing) me"...
Jewellery Grade Garnet, french lace, Damascus Japanese chef knife, shoe
✧✧✧✧✧✧✧✧✧✧✧✧✧✧✧✧✧✧✧✧✧✧
..."When I first entered WOW in 2010, I was anxious. Now, I think I was more anxious not to be accepted than to create something out of my "normality".
If you ask me what are my skills, I will be well embarrassed to give you diplomas, certificates…Of course, I have a diploma of fashion design and pattern making AND it is in my genes with a great grand mother fine linen hand embroiderer and 2 grand mothers couturières!
For the rest, it is 50 years of practice (I started I was 5), patience and tenacity with a lot of enthusiasm, love and imagination.

I can put things together, I know I can…mostly.
I can draw, paint but I prefer the relationship with my computer, "from brain to screen".
I can take photographs but I enjoy more and more to use my phone, pick up instants on FB.

I like to mix Old with New, Printmaking with Perspex
Etching but made of Solarplates, a non-toxic way that uses my computer "collages" to etch the image on a plate
I love the fact the sun, time of the day, of the year will influence the etching. I like the unknown factor, the surprise, the part I can't control!
I could; I could use a light box, I don't want.
I could do series, I don't like. Prints are a personal emotional and physical materialization on paper and I want to keep it unique.
My limited editions are a maximum of 10 and always different, in the colour or the way I ink my plate.
Perspex allows me to work in big size, allows me to go to 3D work by layering with Etchings or by literally using it like a fabric.
And this links back to fashion and making pieces!

What I enjoy the most with WOW is making pieces, doing a 3D artwork. Not only to tell one story in 3D but also to look at all the different angles, perspective, all the different stories that come out of it.
I realized recently I start my WOW garment with the shoes and "build it up".
I actually love shoes. I like to "accessorize" them with my outfit.
In the same way I like making jewellery pieces that tell stories, mini wearable artworks. Statement pieces…

This year, I am in piece!!!"
Exhibitions & Events
UPCOMING
07 October-05 November: "Intellectual Fashion Show" Gus Fisher Gallery Auckland
29 October: "Shoes Extravaganza" , Tepid Bath Auckland


2016
September: Finalist World of WeatableArt Open section Wellington
July: "I am a child" Group exhibition Art by the Sea Devonport
2015
December:
Christmas group exhibition, Paperworks, Napier
Chritmas show Solander Gallery Wellington
September-October: World of WearableArt, Finalist open section WOW 2015 Wellington
August-September: Solander Gallery Wellington
July 27 -August 13: Red Gallery Nelson
May Solo Exhibition Art by the Sea Gallery Devonport
February FINALIST 1rst round NiIKON world photo contest 2015
FINALIST New Zealand Painting and Printmaking Awards 2015, Hamilton
2014:
-November "Antipodes" Group exhibition between New Zealand and Australia, Auckland-Sydney
-November "Outside the Square" group exhibition Depot Art Space, Devonport
-October BraveHeart Art Exhibition, Group Auckland
-September Bimblebox Art Project group exhibition
153 Printmakers representing 153 birds of the Bimblebox Reserve, endangered by a project of
coal mining QLD, Australia
World of Wearableart FINALIST Bizarre Bra Section Wellington
-August 22-Sept 17: "
Recycle to Upcycle"
group exhibition, Queenstown Arts Centre Queenstown
-September-October:

World of WearableArt,

Finalist 2013

Wellington

Finalist

of Impressions Art Awards Refinery Artspace Nelson
-Feb-March: "Taste of Printmaking" Lake House Art Center Takapuna
24 printmakers from the Print Studio Collective show the diversity of Printmaking.

Using contemporary themes, printmaking processes range from traditional to multimedia to digital prints.

The Print Studio will also be open to give viewers the opportunity to see further prints, see how prints are made and talk with the printmakers.
2012:
-September: Award Winner in Air New Zealand South Pacific Section, World of WearableArt 2012
Wellington
-June "View" solo exhibition, Letham Gallery Auckland presented by the Auckland Festival of Photography 2012
2011:
Finalist at the Biennal International Printmaking Show, 27 Artists from 14 countries
-September: " A puzzled Tame Tiki" Group Exhibition Letham GAllery Auckland
-August: Finalist in Kiwi Icons Section for the World of Wearableart 2011 Wellington
-April: "in Bloom" Group Exhibition Wallace Morrinsville Gallery
2011 FINALIST official Jury selection
- December/January : WaiPrint, Printmaking Group Exhibition Artspost Hamilton
"Local Landscape" , Group Exhibition Wallace Morrinsville Gallery
"Cross my Heart", Group Exhibition Letham Gallery Auckland
2010:
- September/October: World of WearableArt:

RUNNER UP

in Air New Zealand Pacific Section with "Who's the Pest, I am The Pest".
- September/October: "Metonymy ": Group Exhibition, Corban Estate Arts Center Auckland
-June: "ConnexiÒn" : SOLO Exhibition, Letham Gallery presented by

Auckland Festival of Photography 2010
-May: Braveheart Exhibition: 200 Artists, 600 Artworks presented at ASB Showground, Auckland
TRENZ represented by essenze NZ


2009:
-November: Ferner Galleries, le Salon Group Exhibition Sale St Auckland
-September: Exhibition SOLO, Letham Gallery Ponsonby Auckland
-May: "SkinS" SOLO Exhibition with the Auckland Photography Festival GeorgiGregg, Parnell Auckland
-March: "Parnell Art Rally": 7 Artworks, 7 places all dedicated to Arts: Essenze, Warwick Fabric, Corporate Culture & Designer Rugs, Coastal Design, Siena, Juice TV.
2008:
-November: "Fake", first SOLO Exhibition in New Zealand GeorgiGregg Parnell Auckland