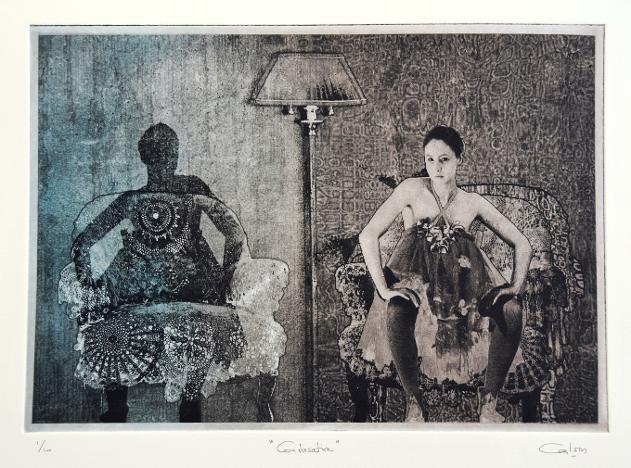 "Conversation" Finalist René Carcan Printmaking Awards 2018 Intaglio éd 10
Carlson has shown work in Auckland and across New Zealand as well as internationally, with her work appearing in juried shows in Japan, New Mexico, Bulgaria, United Arab Emirates, Portugal.
8 times Finalist of the WOW Awards from 2110, she has been runner up South pacific Section 2010 with her garment "Who is the pest, I am the pest" and winner 2012 of the South Pacific Section with "Marquise Rawahi". This garment is part of the World of WearableArt Collection.



Up coming




-December: "Mohua" Pieces Exhibition, WOW National Museum, Nelson

-November: Sculpture OnShore, Devonport Auckland
















Awards

2018

Finalist WOW 2018 Aotearoa Section Wellington

Finalist René Carcan International Print Awards Belgium

Finalist New Zealand Painting and Printmaking Awards Hamilton

Finalist René Carcan Printmaking Awards Bruxelles Belgium




2017

April Long listed Nikon photo contest 2017 Japan

February Finalist New Zealand Painting and Printmaking Awards Hamilton, NZ

September Finalist World of WearableArt Open Section Wellington




2016

Finalist WOW 2016, section Avant-garde Wellington

Long-listed in the Jackson's International Open Art Prize London UK

Finalist New Zealand Painting and Printmaking Awards Hamilton

2015

World of WearableArt Finalist 2015 Open section Wellington

Finalist International Mini Print University of art-Tokyo Japan

Nikon International Photo contest, 1rst round finalist Japan

Finalist New Zealand Printmaking Awards-1rst Impressions II MAC NZ

Finalist New Zealand Painting and Printmaking Awards Hamilton NZ

2014

Finalist Awagami International Mini Print Japan

Finalist WOW 2014, Bizarre Bra Section Wellington

Finalist Impression Art Awards Nelson

2013

Finalist Impressions Art Awards Nelson

Finalist World of Wearableart, Weta section Wellington

Finalist of World Art Competition-Lessedra Mini Print 2013

Lessedra Bulgaria

2012

Award Winner South Pacific Section World of WearableArt Wellington

Finalist at Art at Wharepuke, International Printmaking Exhibition Kerikeri
2011

Finalist of Kiwi Icon World of WearableArt Wellington

Finalist of The New Zealand Painting & Printmaking Awards Hamilton

2010

World of WearableArt 2010 , Runner Up of Pacific Section Wellington












Collections
-2018: Douro Museum of Art Portugal
-2016: Al Serkal Arts District Zayed University , Dubai United Arab Emirates
-2015: Tama University of Art , Tokyo Japan
-2014: Bimblebox Art Project , 153 Printmakers representing 153 birds of the Bimblebox
Reserve, endangered by a project of coal mining Australia
Awagami Factory Japan
Presentations




"From Perspex to Wearable Art" Pecha Kucha




Solo Exhibitions

2017

-November "Unwearable" Carlson- WOW Entries Retrospective Devonport




-October Artweek- Carlson "PERSPEX" Pavilion Architecture Devonport




-June-August: Objects of Desire Blikfang Art & Antiques Auckland




2015

-Cameos&Etchings "We like Feature Wall" Solander Gallery Wellington

-"Vie de Bohème" Red Gallery Nelson

- "Vie de Boheme, Art by the Sea, Devonport

2013

-"el Final" Red Gallery Nelson

- Matariki Celebration Depot Artspace Devonport

-"Quirkiness, Animals with attitude"Auckland Festival of Photography Auckland

2012

-"View" Solo Exhibition Auckland Festival of Photography Letham Gallery , Auckland
-"Décadence", Exhibition of Lampshade, Perspex, flax, feather, Essenze Auckland




2011

- "El Final" Solo Exhibition Auckland Festival of Photography Republic Home, Auckland

2010

-"ConnexiÒn" Auckland Festival of Photography, Letham Gallery Auckland



Group Exhibitions

2018

-Bimblebox project Australia

-Douro Museum of Art Printmaking international ehibition Portugal -René Carcan International Printmaking Awards & Exhibition Belgium

2017

-"Glow Wear Project" Wellington, Auckland -"Woven Heritage" Al Serkal Arts District Zayed University Dubai, United Arab Emirate -Planis Hall, JR Sapporo Tower, Sapporo, JAPAN

2016 -4th International Juried Print Exhibition Albuquerque, NM USA -"the Intellectual Fashion Show" Gus Fisher Gallery Auckland -"I am a child" Art by the Sea Devonport

2015 - "Christmas at Paper-works Gallery" Napier

-80th Anniversary of Tama Art University Museum1-33-1 Ochiai, Tama-city, Tokyo, JAPAN

-"Vie de Boheme Cameos" WOW Museum Nelson

- "Encaged" Depot Artspace,

-"Made by hand" Solander Gallery Wellington

-Cameos & Etchings "We like Feature Wall" Solander Gallery Wellington

2014 -Outside the Square" Depot Art Space, Devonport

-Antipodes, Pine Street Creative Arts Gallery, Sydney Australia

-BraveHeart Group exhibition Auckland

- Bimblebox Art Project QLD Australia

-Antipodes, Group Exhibition Northart Auckland

-Recycle to Upcycle Queenstown Arts Centre Queenstown

2013 Taste of Printmaking" Lake House Takapuna Art Centre Auckland

2012 -"A puzzled Tame Tiki" Letham Gallery Auckland

2011 - NZ Art Show Wellington

-In Bloom Wallace Morrinsville Gallery Morrinsville

2010 -Local Landscapes Wallace Morrinsville Gallery Morrinsville

-Cross my Heart Letham Gallery Auckland

- Waiprint 2010 Artpost Gallery Hamilton

-Metonymy Corban Estate Art Center Auckland

-Braveheart Exhibition: 200 Artists, 600 Artworks presented Auckland




2009 -1000 Ferner Gallery, Sale St Auckland Auckland