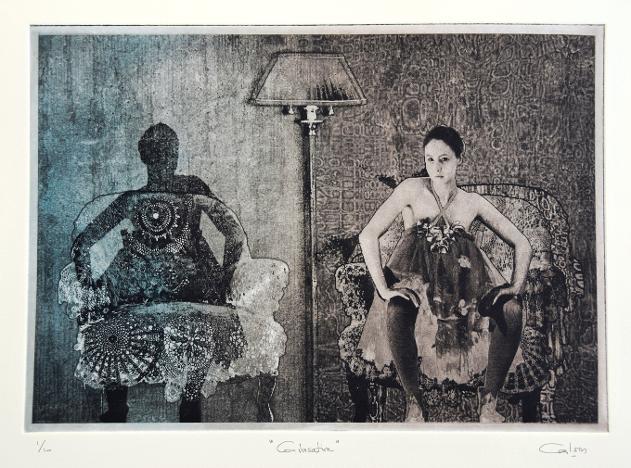 "Conversation" Finalist René Carcan International Printmaking Awards

Carlson is represented in New Zealand as well as internationally, with her work appearing in juried shows in Japan, New Mexico, Bulgaria, United Arab Emirates, Portugal .
10 times finalist of the WOW Awards 2010-2019, she has been runner up in 2010 and winner in 2012 in South Pacific Section. Her garments are part of the World of WearableArt private collection.
Past exhibitions & events
2023:
-April: Nelson Jewellery Week "the Magpie Nest Project" Solo Exhibition, Craig Potton Gallery, Nelson
-September: Teaching workshops, Selwyn College Auckland
2022:
-November-December: Christmas group show- Pacifika series , Paper-Works Gallery
-October: Taranaki National Art Awards with "Portrait" Necklace Sandsford Event Centre, NZ
2021
-Finalist Parkin Drawing Prize with "Line" ring Wellington
-Finalist Cleveland National Art Awards with "Reflection" ring Dunedin
-FinalistNew Zealand Small Sculpture Prize with "Black Rock" ring Waiheke
2020:
- Hand Medal Project, worldwide project
-Jewellery Masterclass with Iris Eichenberg
-Auckland Art Gallery: "a Different Perspective" participation in the panel discussion during Louise Henderson Retrospective- Auckland Art Gallery
2019:
-"Fashion on the Wharf", Devonport- Fundraising event for "Dress for Success".
-"the Renault French Festival" & Alliance Française - Auckland
-"Declutter'" Solo Exhibition, Pavilion Architecture - Devonport
-"Mohua" Pieces, World of WearableArt National Museum - Nelson
-Mentoring project at Takapuna Primary School: mini WOW Catwalk against Pollution of our Sea.

2018:
-"Sculpture OnShore" - Devonport
-"Shoes Extravaganza Awards & Exhibition" - Auckland
-WOW show - Wellington
-Douro Printmaking Biennial 2018-Portugal
-René Carcan Printmaking Awards -Belgium
-Finalist New Zealand Painting & Printmaking Awards – Hamilton
2017:
-"Unwearable", Beatrice Carlson World of WearableArt retrospective - Devonport
-Artweek "PERSPEX" Pavilion Architecture - Devonport
-World of WearableArt (WOW) - Wellington
-Glow Wear Project - Wellington & Auckland
-"Objects of Desire" Solo Exhibition , Blikfang Art & Antiques & Auckland Festival of Photography
Thank you to contact Carlson for a more extensive CV